Op de laatste dag van de gathering hadden Ralph en Barrie opnieuw allerlei leuke dingen gepland. Te beginnen met een jacht demonstratie met roofvogels en hierna het ontsteken van Amerikaans vuurwerk. De gathering zou worden afgesloten met de BICA Clubmatch (show). De roofvogel demonstratie.:Op de foto's hierboven en onder zien jullie de prachtige dieren die de mannen hadden meegebracht voor de jacht demonstratie. Het was de bedoeling dat de vogel de fazant die was losgelaten zou slaan, maar het werd een waar spektakel in de lucht toen een tweede vogel besloot zijn territorium te verdedigen. Om die reden ging deze een gevecht aan met de "getrainde" vogel. Het ging gepaard met een hoop lawaai, gelukkig konden de mannen uiteindelijk een paar kilometer verderop hun vogel terug halen. Het is een ieder duidelijk dat de zender op zijn borst goed van pas kwam.
On the last day of the gathering Ralph and Barrie had planned many fun things again. Starting with a demonstration hunting with birds of prey, followed by American fireworks. The gathering would be completed by the BICA Club Match (show). The birds of prey demonstration.: In the pictures above and below you see the wonderful animals that the men had brought for the hunting demonstration. The intention was that the bird would hit the pheasant that was released, but it became a real spectacle in the air as a wild bird decided to defend it's territory. For that reason, it started a battle with the "trained" bird. It involved a lot of noise, fortunately the men ultimately retrieved their bird a few miles away. It is clear to everyone that the transmitter on the bird's chest came in handy.

De vogel vliegt hier nog alleen rond. De man probeert zijn vogel te lokken.
Here the bird flies around alone. The man tries to lure his bird.
De Hawk zag er indrukwekkend uit toen hij terug was en leek helemaal niet verslagen. Wat een prachtige dieren zijn het toch.
When the Hawk was back it looked impressive and not at all defeated. What magnificent animals they are.


Het maakte niet uit dat we even moesten wachten totdat de mannen terug waren met hun vogel, zelfs na de afgelopen drie dagen hadden wij elkaar nog veel te vertellen.
It did not matter that we had to wait until the men were back with their bird, even after three days together we still had much to tell each other.

Wij hebben zulke leuke mensen ontmoet! Becky en Mary Ann zijn al jaren goede vrienden van elkaar, dat zie je wel.
We met up with such nice people! Like Becky and Mary Ann, they are good friends for many years , which you see of course.

Hier nog even een foto van de Adelaar, deze kon gelukkig wel veilig rondvliegen zonder door een soortgenoot te worden aangevallen. Opnieuw erg indrukwekkend. Helaas voor de eigenaren van de Ranch kreeg de adelaar al snel in de gaten dat er eenden in de vijver van de Ranch zaten. We weten eigenlijk niet of hij/zij uiteindelijk daadwerkelijk een eend heeft aangevallen.
Here is a picture of the Eagle, it fortunatly flew safely without the threat of being attacked. Again very impressive. We felt a little sorry for the owners of the Ranch because as soon as the Eagle was in the air, his eye was on the ducks that where in the Ranch pond. We really do not know whether it ultermately actually attacked a duck.

Op de foto boven zien jullie dat Jaap in gesprek met de moeder van Ralph. Zij had Jaap zijn hart gestolen vanaf het moment dat zij met een grote dosis humor wist te vertellen dat zij ook allegisch was voor eten dat ze eigenlijk liever niet eet. En daar komt nog bij dat Ralph zijn moeder de lekkerste taart maakt die wij ooit hebben gegeten.
In the picture above you see that Jaap is talking to Ralph's mother. Her great sence of humor (she told people that she was also allergic to food she'd rather not eat) and the fact that she is the creator of the best cake ever , makes it easy for Jaap to adore her.

Na de demonstratie, of eigenlijk tussen de bedrijven door wist Piotr ons te vermaken met "wilde" slangen! We hadden geluk om Piotr te ontmoeten op de bijeenkomst. Hij wist veel over slangen en hun gedrag. Hij heeft het mogelijke gemaakt dat wij slangen van zeer dichtbij konden zien en voelen zonder gevaar te lopen. Op foto.: een slang die naar het donker wil en donker is het aan de binnenkant van Jaap zijn t-shirt.
After the demonstrtion or to be more specific in between the demonstration and waiting for the man to came back with their birds, Piotr enjoyed us with picking up wild snakes. We were happy to meet Piotr at the gathering. He is familiar with snakes and their behaviour. That made it possible for us to look at the nearest passer by (see above) without any danger from very close up. In the photo.: the snake tries to get into the dark and the inside of Jaap's t-shirt is dark.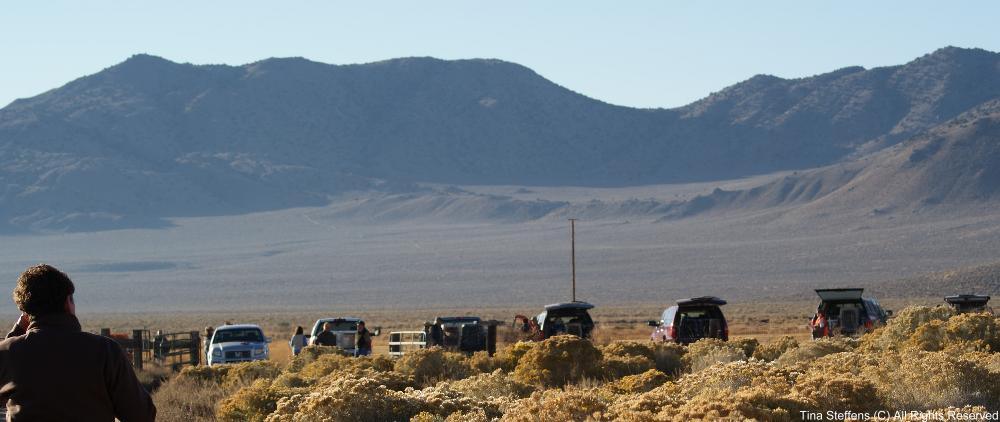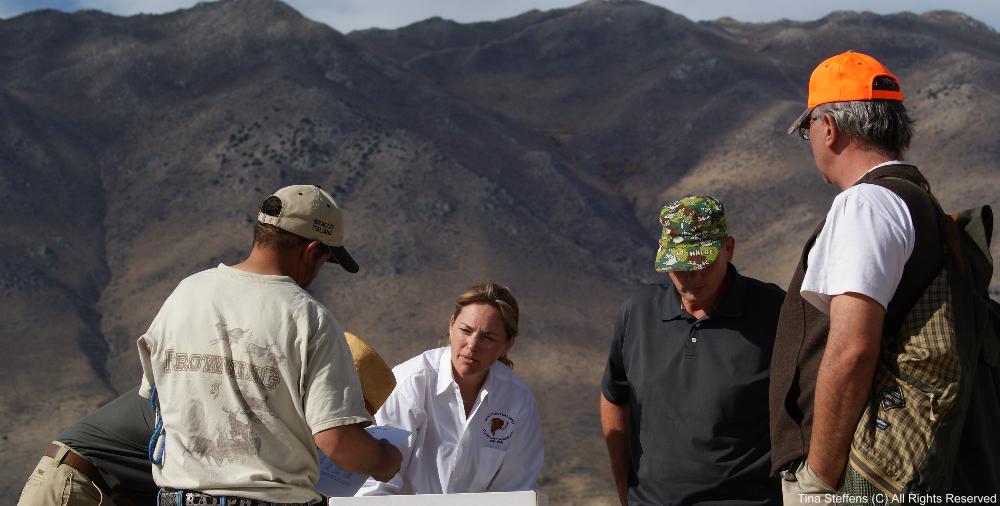 De BICA clubmatch. Erica had voor deze gelegenheid een keurmeester geregeld. De dame in het blauw (foto beneden), geen idee of zij eerder zoveel bracchi bij elkaar had gezien. Ze deed in ieder geval of het de gewoonste zaak van de wereld was.
The BICA club match. Erica had had the opportunity to arange a judge - see is the lady in blue - for the match. We have no idea if previously she had seen so manny bracchi together. She behaved like it was the most ordinary appointment in the world.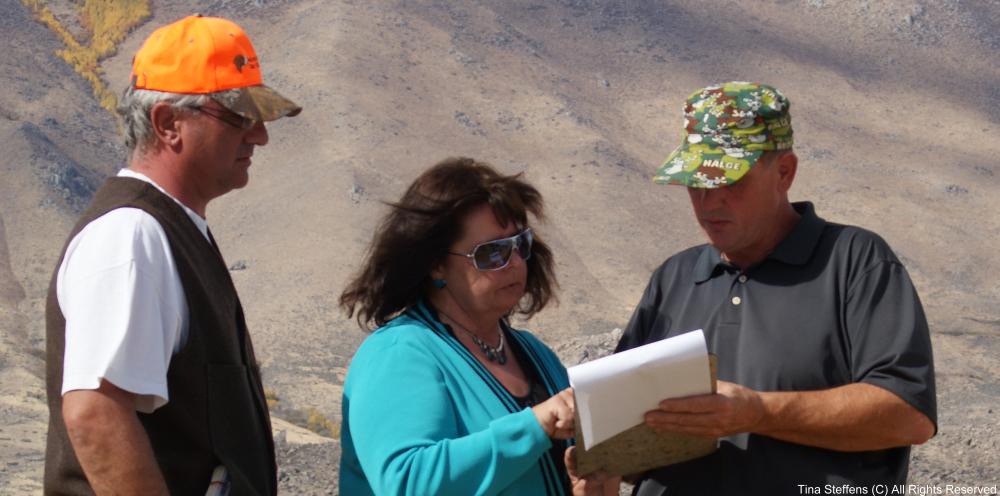 Het valt niet mee voor de keurmeester want in de ring staat ook een assistent (ringmeester Jaap) en een assistent van de assistent.
It must be difficult for this judge because in the ring there is an assistant (ringmaster Jaap) and also an assistant to the assistant.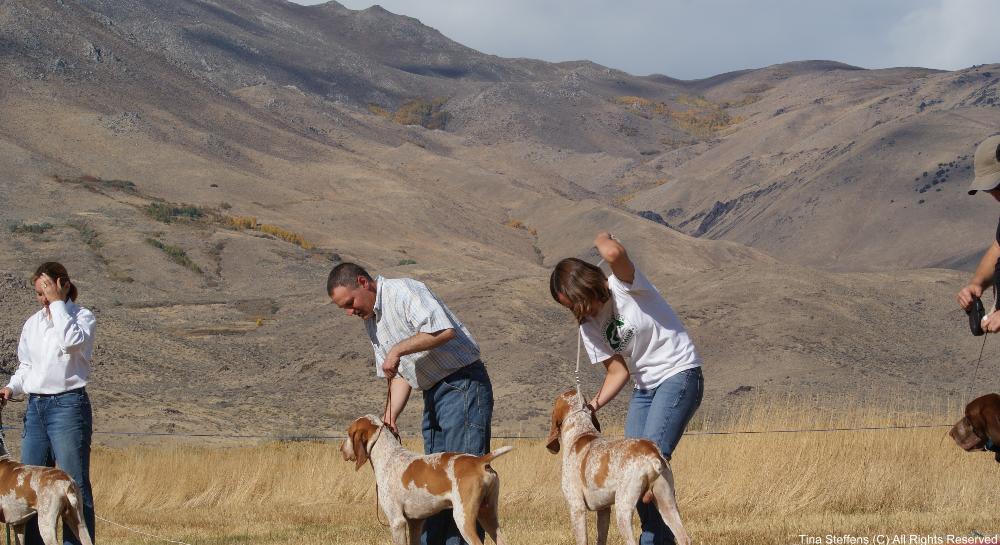 Op deze foto is te zien dat het warm was, gelukkig stond er wel een stevig briesje. Wat een prachtige achtergrond.
This picture shows that it was hot, but fortunately there was a strong breeze. What a beautiful background

De keurmeester en de assistent zijn aan het keuren.
The judge and her assistants assistant are judging.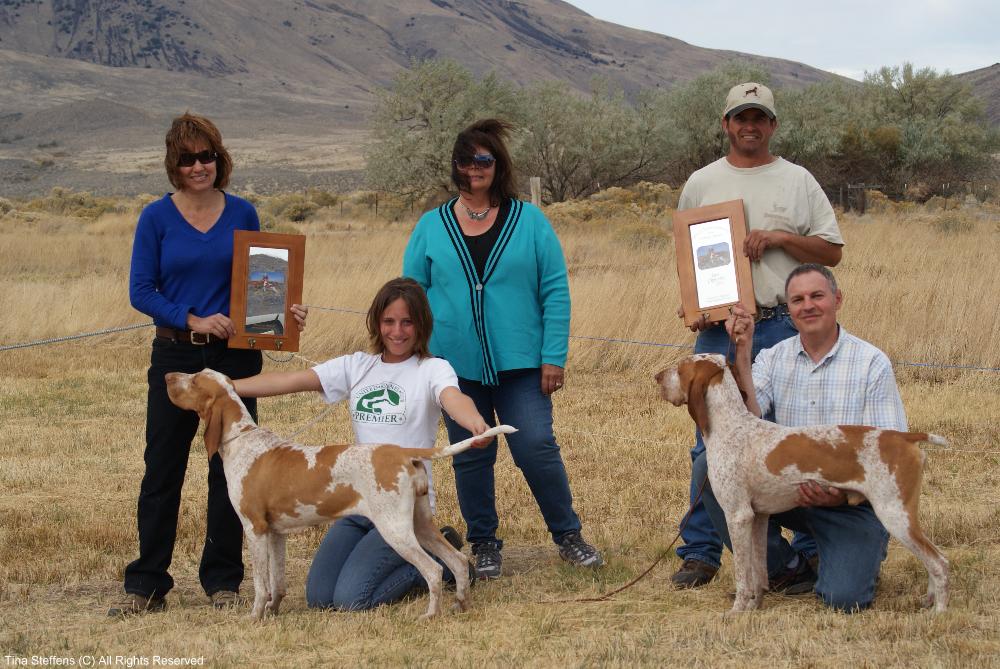 De keurmeester maakt John Callaci's Cider Beste Reu en Amanda Inman's Delaney Beste Teef en BIS 2009. Voor de winnaars hadden Ralph en Barrie mooie prijzen laten maken.
The judge makes John Callaci's Cider Best Male and Amanda Inman's Delaney Best Female and BIS 2009. Ralph and Barrie had great prizes for the winners.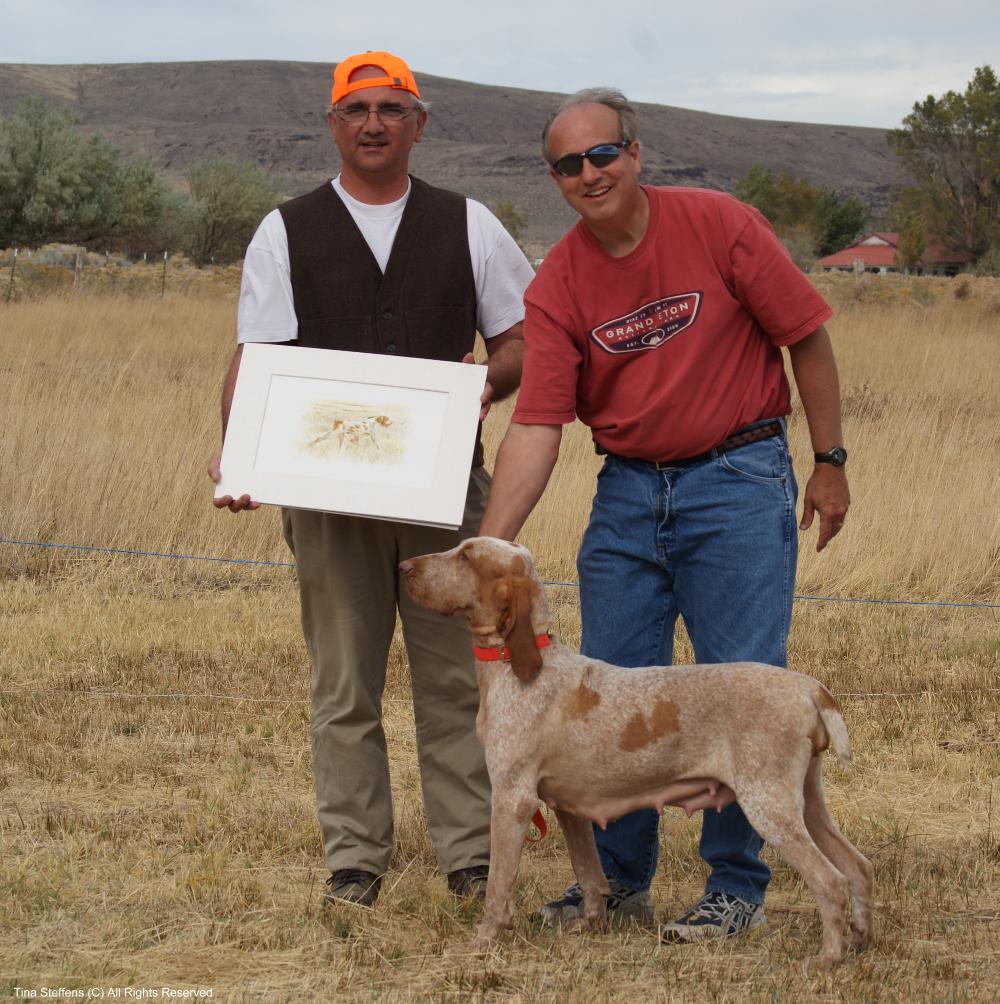 Flavio Fusetti maakte John Kavalier's teef "Bello e Bravo 2009"
Flavio Fusetti made John Kavalier's Female "Bello e Bravo 2009"