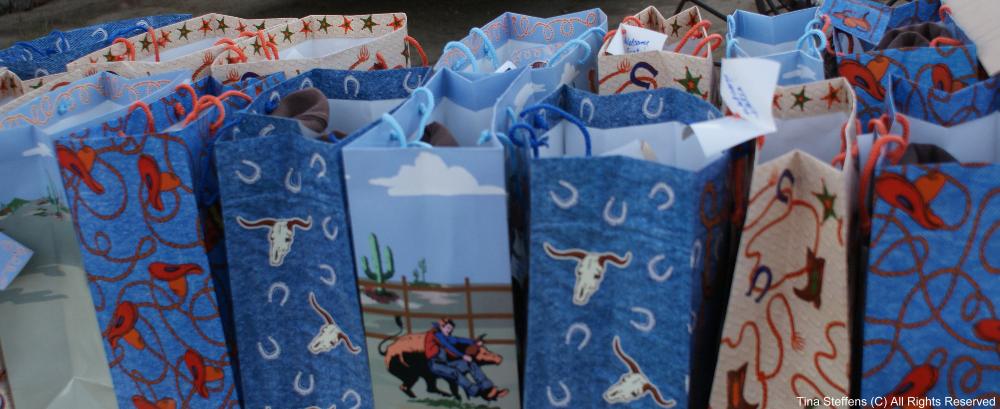 De eerste dag van de seminar.: Vroeg in de morgen hadden de mensen die zich hadden opgegeven voor de Bracco Italiano bijeenkomst 2009 zich al verzameld in en rond de kleine stad Gerlach. Ralph en Barrie hadden de taak op zich genomen deze dagen te organiseren. En dit hadden zij zeer serieus genomen. Op een mooie Ranch van vrienden waren alle genodigden met een camper of tent en hun honden meer dan welkom. Alles was tot in de puntjes geregeld. De seminar ging van start rond het kampvuur op de Ranch, na een welkomswoord konden de aanwezige genieten van een heerlijk Amerikaans ontbijt. Op de foto zien jullie de geinige tassen van Barrie, voor iedereen een (leuke) tas vol presentjes.
The first day of the seminar. "Early in the morning, people who had registrated for the 2009 Bracco Italiano meeting gathered in and around the small town of Gerlach. Ralph and Barrie had committed themselves to organising these days. And they took this very seriously. All the guests invited to this beautiful ranch were made very welcome by the hosts Barrie & Ralph- even with their campers, tents and dogs! They had rented the range just for this wonderful weekend. Everything was well planned down the last detail. When we arived Barrie had made a (nice) bag full of lovely presents for everyone.

Na het ontbijt gingen we de bergen in achter de Ranch, op zoek naar de chutcar. De groep was te groot om met zijn allen op jacht te gaan. De groep werd daarom in tweeen gedeeld. Gus een goede vriend van Ralph (met engelse pointers) was begeleider van een groep en Ralph nam natuurlijk ook een groep op sleeptouw.
After breakfast, we went into the mountains behind the ranch to look for birds. Being a large group, we split into two. Gus, a good friend of Ralph with english pointers, headed one group and Ralph the other.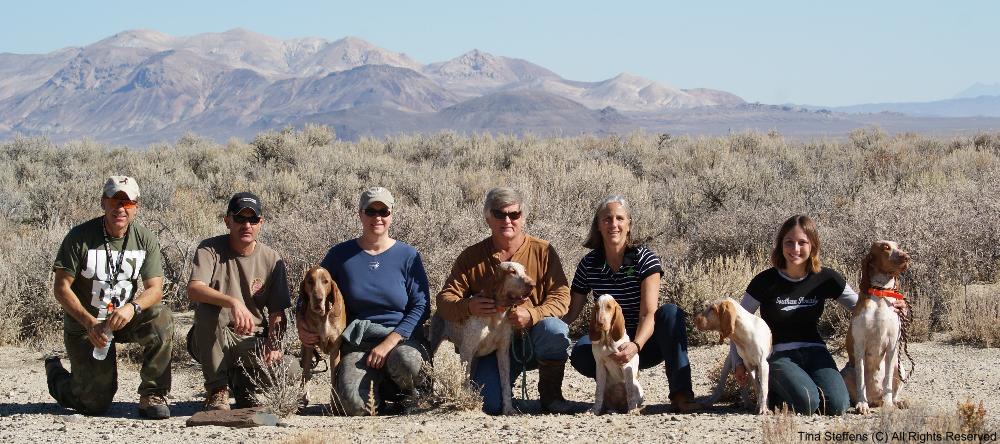 Gus op links zijn groep
Gus on the left with his group


Een behoorlijke klim hebben we gemaakt, helaas geen chutcar gezien, wel haas. Het was prachtig om op deze bergen te lopen met de honden.
We had to climb pretty big mountains- no birds but a hare! But we didn't shoot it. It was so wonderful to be in the mountains hunting with all these dogs.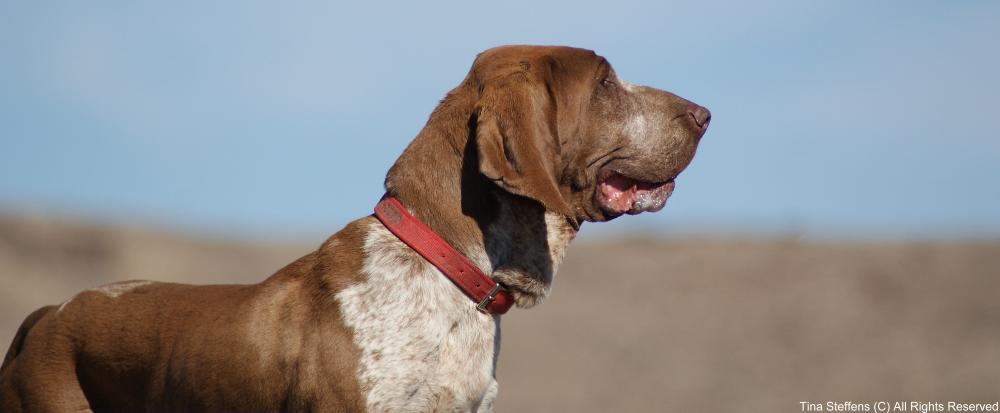 Sadie "Marcellina di Ala D'Oro", de oudste.
Sadie "Marcellina di Ala D'Oro", the oldest.

Minnittes Lili "Hooligan" de jongste.
Minnittes Lili "Hooligan" the youngest.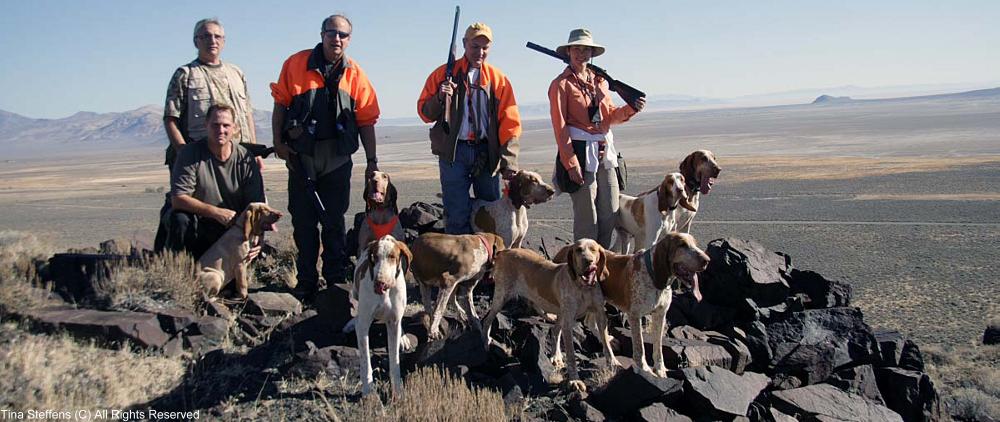 Het was een prachtige en heerlijke dag!
It was a great day!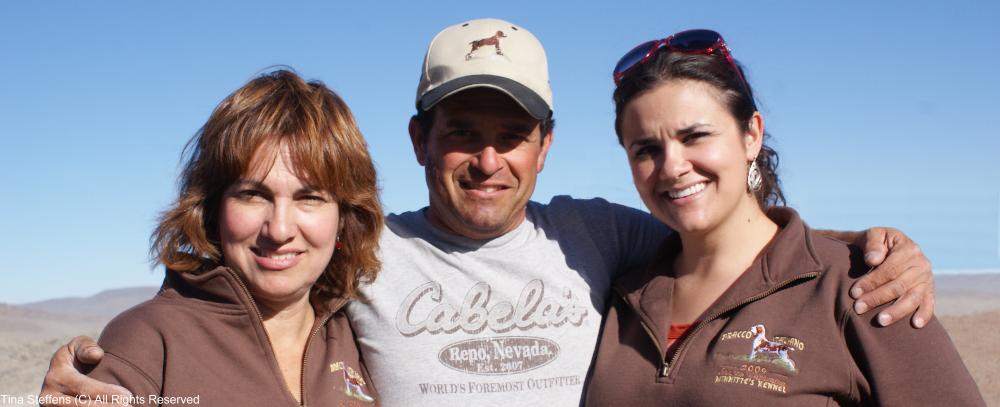 Barrie, Ralph and Dae.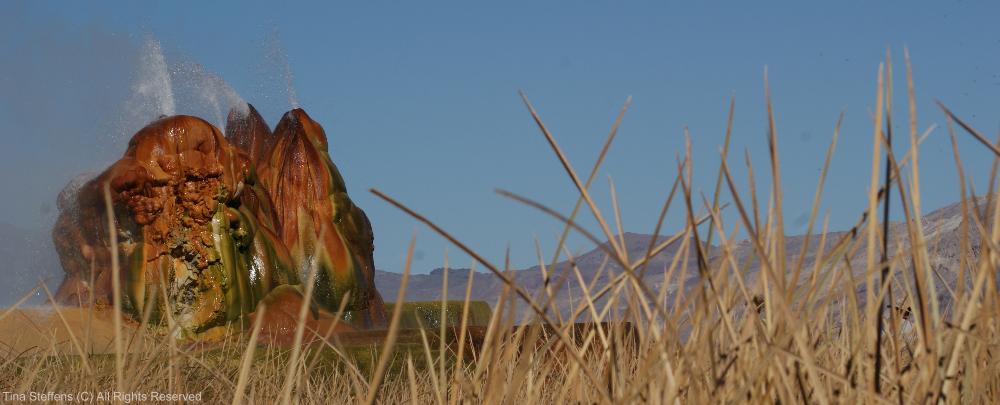 Na het jagen heelijk gegeten op de Ranch, na het eten stonden Ralph en Barrie klaar. Zij hadden een touristische route uitgezocht die we met zijn allen zouden volgen. Barrie was de gids. Deze prachtige geiser was wel het hoogtepunt, zo mooi.
Following the hunting, we had a lovely lunch at the ranch. After that Barrie and Ralph ensured we got to see these unbelievable geyser rock formations- truly amazing during a touristic tour! This geyser was one of the most beautiful things we have ever seen.

Een plek waar slangen goed kunnen leven zo vlakbij de geiser.
A place where snakes can live a good life, so close to the geyser.
In deze omgeving verwacht je cowboy's en Indianen, deze cowboy brengt de koeien naar een ranch.
In this environment we expect to see cowboy and Indian, this cowboy is taking the cows to the ranch.