Na alweer een heerlijk ontbijt werden alle mensen en hun honden verwacht in de gigantische achtertuin van de Ranch.
Onze Amerikaanse vrienden zouden ons laten zien hoe de Bracco's in Amerika oa. bij de NAVHDA veldwedstrijden lopen. Wij hebben de afgelopen jaren in veel verschillende landen deelgenomen aan veldwedstrijden, leuk dus om nu eens in Amerika mee te kunnen kijken en te vergelijken.
After another delicious breakfast, all people and their dogs were expected in the huge backyard of the Ranch. Our American friends showed us how America field trails work. Past years we have participated in field trials in many different countries, so it was nice to be able to watch how it is done in America, look and compare.

Op deze dag is er voor gekozen om fazanten uit te zetten. Om ze op de plek te houden worden ze vooraf wat duizelig gemaakt door ze te schudden. In Nederland is het uitzetten niet toegestaan. Wedstrijden met natuurlijk of uitgezet wild zijn compleet verschillende takken van sport gezien. Een uitgezette fazant gedraagt zich anders dan een wilde of semi wilde fazant. De vogels geven ook een andere geur af. In deze groep waren mensen aanwezigen die de honden trainen voor dit soort wedstrijden, maar er waren voornamelijk mensen met honden die ervaring hebben in een natuurlijk jachtveld. Het verschil van werken was aan de honden te zien. Wij hebben genoten van deze ochtend, we hebben veel prima werkende honden gezien. We hebben veel geleerd. We vinden het geweldig dat de mogelijkheden die een land als Amerika heeft met betrekking tot het jagen zo goed benut worden door deze Bracco Italiano eigenaren. Hiervoor geven wij alle aanwezige een groot compliment.
To make this day a success the decision was made to put pheasants out in the fields. To keep them on the spot they previously made them dizzy by shaking. In the Netherlands restocking is not permitted. So we do not have competition with planted birds only with natural birds. Competitions with natural or planted wild sports are completely different. A marked pheasant behaves differently to a wild or semi wild pheasant. The birds also give different scents. In this group of participants there were people who train their dogs specially for this kind of game, but most people present only had experience with their dogs in a natural hunting ground. It was very interesting to see the difference in how the dogs behaved. We enjoyed this morning and learned again so much more and we saw many excellent working dogs. We're delighted that the hunting opportunities that a country like America presents are so well exploited by these Bracco Italiano owners. We want to give a great compliment to all people that were present at this gathering.

Een Bracco in Amerika kan natuurlijk ook mooi trotten, zelfs als ze een "langere"staart hebben.
Of course a Bracco in America can trot well, even if the tail is longer.

De hond aan het zoeken ondertussen lekker kletsen en ervaringen uitwisselen. Er werd genoten van het werk zoals je kan zien in de foto boven.
While the dog is searching you can talk and exchange experiences. They realy enjoyed the work as you can see above

Dan de situatie waarbij de hond heeft voorgestaan en de eigenaar de vogel in de lucht laat gaan.
This is the situation; The dog just points and the owner lets the bird fly.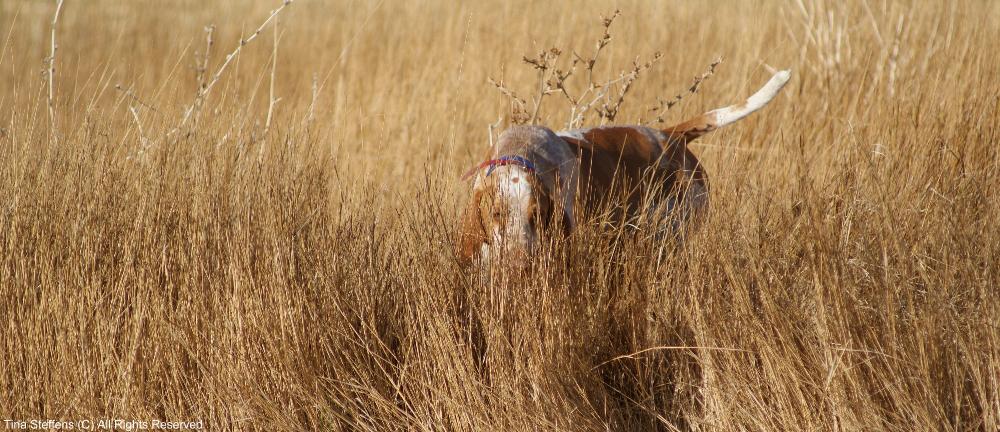 Concentratie bij de hond, de duizelige fazant zit verscholen op zo'n 20 centimer van de hond zijn neus.
Concentration mounts in the dog, the dizzy pheasant is hiding only about 20 inches from the dog's nose.

De beloning, nadat er mooi is voorgestaan en de fazant de lucht is ingegaan wordt het bevel om te apporteren gegeven. De toeschouwers op de achtergrond hebben mooi overzicht en hebben het naar de zin.
The reward, after pointing nicely and flushing the pheasant into the air, is the command to retrieve being given. The spectators in the background have a nice overview of the event.

En weer een mooi apport.
And yet again a nice retrieve.

Deze bruine dame is natuurlijk wild gewend, zij neemt een grotere afstand tot de fazant en staat prachtig voor. Helaas geen apport de schutter mist de fazant op een veertje.
This brown lady is used to natural game; her distance on point is different. After this nice point, in her case no retrieve since the pheasant was missed by a feather.

Als iedereen aan de beurt is geweest gaan er nog een aantal mensen en hun honden de velden in voor de nazoek. Achtergebleven Fazanten worden op deze wijze toch nog netjes binnen gebracht.
After everybody got their turn, some people where asked to go back into the field with their dogs to make sure that all the pheasants that stayed behind were brought in neatly.