Onze reis naar de staat Nevada in Amerika stond al jaren op het programma. Dit jaar werd het dus eindelijk realiteit. Ralph en Barrie de eigenaren van de Minnittes kennel in Amerika waren onze gastheer en gastvrouw. Wij bedanken ze hartelijk voor deze geweldige dagen!
Our trip to the Nevada State in America has been planned for years. This year it finally became reality. Ralph and Barrie the owners of the kennel Minnittes in America, were our host and hostess. We thank them sincerely for these wonderful days!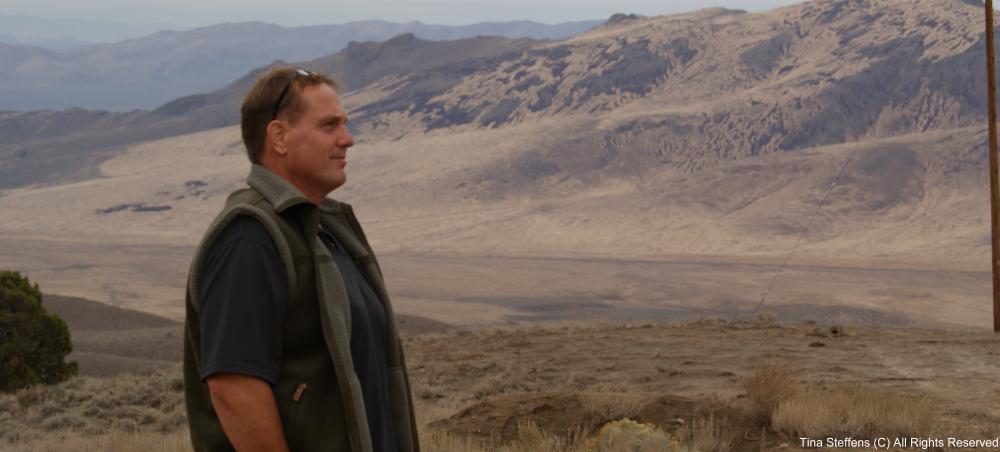 De eerste dag in Nevada.: Ralph moest nog even naar Reno voor wat voorbereidingen voor de Bracco Italiano Seminar 2009, aangezien wij net uit Reno vandaan kwamen leek het ons beter wat rond te toeren in de omgeving van Gerlach. Ralph vertelde ons keer op keer over zijn mooie bergen, wij besloten daarom om op deze dag de bergen van Ralph zelf maar eens te aanschouwen. Een goede keus, wat een ervaring, de foto's spreken voor zich.
The first day in Nevada.: Ralph had to go to Reno for some more preparations for the Bracco Italiano Seminar and since we just came from Reno it semed to be smart that we did a tour around Gerlach. Ralph told us time after time about his beautiful mountains. We decided therefore to see the mountains of Ralph ourself. And what a good choice, what an experience, the pictures speak for themselves.

Koeien zijn er in dit gebied genoeg.
The cows are all over the place.



Wilde paarden zijn in onze ogen bijzonder, in deze streek zijn ze talrijk en niet te benaderen. De hengst van een kudde kan zelfs zeer gevaarlijk zijn.
Wild horses are in our eyes special, here in these mountains you see them often but it is impossible to get near them. The stallion of the herd can even be very dangerous.

's Avonds had Ralph al verteld over de Antilope. Aan zijn wand hangen twee prachtige bokken. Ook wij kregen deze prachtige Amerikaanse antilopete zien. Nadat we ze hadden ondekt konden we deze groep van elf dieren zelfs langer dan een half uur volgen. Hierna gingen ze weer op in de omgeving.
The evening before we went to the mauntains Ralph had told us about the Antelope. At their home two beautiful bucks hanging on their wall . We were lucky to see eleven of these great American antilopete during this trip. After we discovered this group of animals we could follow them for longer than half an hour. After a whlile we lost them they just blend into the environment.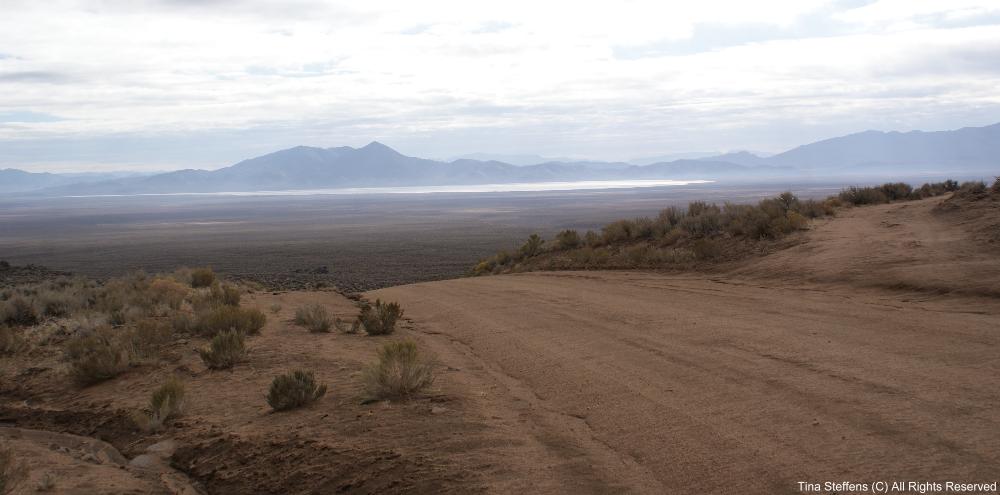 Deze zoutvlakte leek van een afstand op een meer vol met water, van dichtbij was het vooral heel droog, zie foto beneden.
From a distance this just looked like a lake full of water. But when we got close we saw only a very dry lake of salt, see picture below.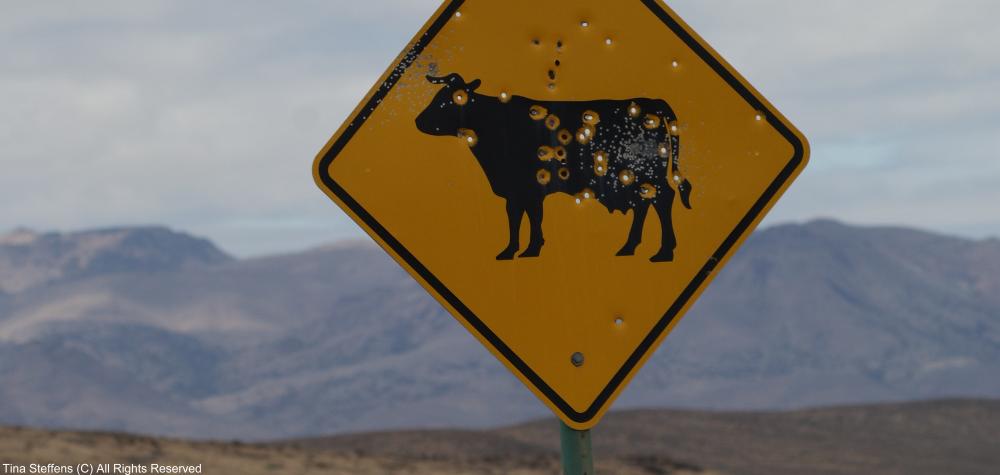 Bij het zien van dit verkeers bordje moesten we even glimlachen. Het wilde westen!
Seeing this traffic sign we had to smile. The Wild West!

De omgeving is adembenemend mooi.
The area is breathtakingly beautiful.