Ala D'Oro on national TV
Monday 9 February 2004 was our TV debut. Our compliments go to the TV director Robert Jongman, the show looked very nice.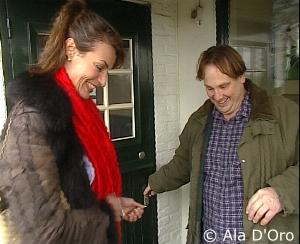 Of course we informed our family and friends about our TV debut, so during and after this special program was on television people phone us. Until now we have had many reactions and all where positive.
The extreme big successes from our kennel, where lucky not been unmarked. The Dutch kennel Club gave our name when Television director was looking for Holland's Best Dog. He asked the Dutch kennel Club to help him find this kennel so he could make a program out of this. So at the 5e February Robert Jongman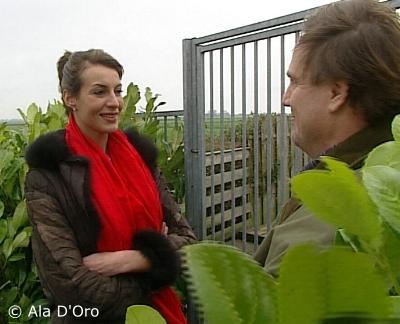 and his crew came to our house and followed us all day.
We had to give interviews, went to places where we walk our dogs, where we train our dogs and they also came to our house to shoot some film. It is not strange that we where picked out for this program because one of the dogs from our kennel became Top Dog 2002 (all Breeds) and he was invited to the most important working test that we have in Holland. And the combination Top Dog in show and Top Dog for working is what we do not see often in Dog World Holland.
At the pictures you see Jaap during his interview with the nice Irene van de Laar (in the past supermodel and now television celeberty). The day we had with these people was spectacular. And it was very special to have the opportunity to show them our dogs. In the TV special you could see many dogs from us in action. A great day witch we will not forget soon !