Adres: Koggeweg 7 - 1652 PC Zuidermeer - Noord -Holland Nederland - tel: +31229563134 - E-Mail: braccoitaliano@bracco-italiano-kennel.nl
.kennel di Ala D'Oro Bracco Italiano
.Jaap Muller & Tina Steffens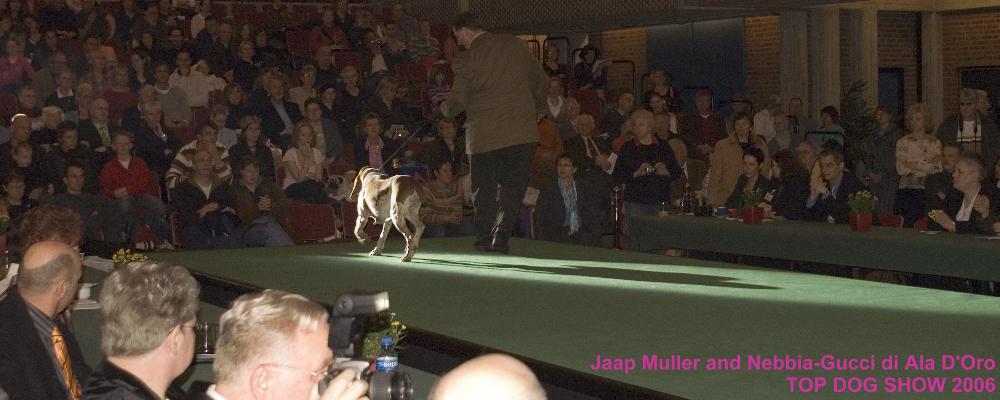 TOP DOG 2006
(Amersfoort 25 Februari 2007)
Miuccia Prada di Ala D'Oro one of the Five Best dogs of Group FCI 7 at the Top Dog of the Year Election 2006!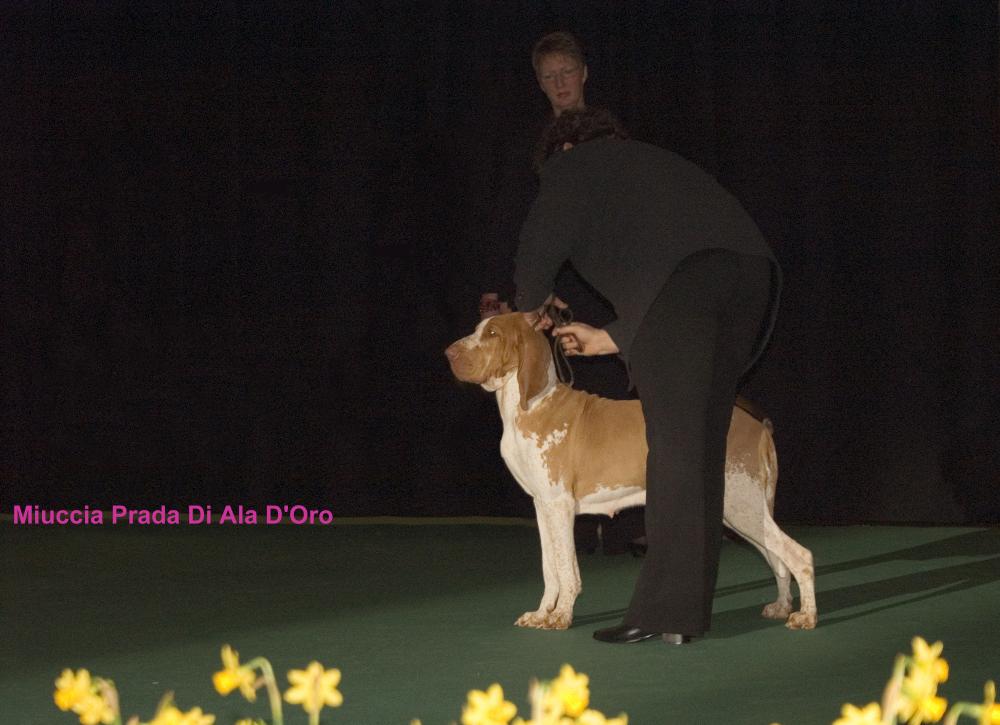 Once a year the Top Dog of the Year election is held in Holland. Only dogs who have qualified for 1e , 2e or 3e in Group are invited to attend. During the Top Dog of the Year 2006 election four dogs from our kennel where invited. We where invited with Miuccia Prada and Nebbia Gucci di Ala D'Oro. This year the four Ala D'Oro Bracchi had to take it up against 12 other FCI Group 7 Winners. The judge first let them walk separated on the catwalk, after this she choose the five BEST dogs out of this group. Our Miuccia Prada was selected by the judge, this means she is one of the five best pointing dogs of Holland! Not realy bad if you think that Miuccia Prada di Ala d'Oro is still in body recovering from her new born litter. Of course we took her two beautyful boy's, Silvestro and Mariotto (only 15 weeks old) to this TOP DOG election so they could give their mother some suport.

With this TOP DOG election we have started the Ala d'Oro show seison 2007 . This year we will try to focus on the championship's of Miuccia Prada, Castellano and Tito Pedrini di Ala D'Oro. When our little men Silvestro en Mariotto di Ala D'Oro are old enough the will present in the showring.
© Di Ala D'Oro - Muller & Steffens