Ala D'Oro Familiedag 28 april 2002

In 2002 mochten wij gebruik maken van het terrein van Kynologen vereniging Waalwijk. Deze vereniging is in het bezit van een prachtige locatie voorzien van prima parkeer plaatsen, een groot buiten terrein dat geheel is omhekt zodat de honden gemakkelijk kunnen loslopen en dan natuurlijk de prachtige nieuwe kantine die genoeg ruimte bood om de meer dan 65 mensen met hun honden onder te brengen. Om 10.15 uur waren wij klaar met de voorbereidingen voor de Ala D'Oro competitie en druppelde de eerste gasten binnen. Tegen 11.00 uur was bijna iedereen er en hebben wij gezamenlijk onder het genot van koffie met een punt appelgebak onze dag feestelijk geopend. nadat de honden eerst even lekker los met elkaar hadden kunnen ravotten werd om 12.00 uur het startsein gegeven de competitie te beginnen. Er waren zes onderdelen waar iedere hond met zijn begeleider/baas aan mee kondoen wilde hij/zij in aanmerking komen de Ala D'Oro trofee te winnen.Een viertal aanwezige gasten waren zo vriendelijk om zich vrijwilligers te laten bombarderen tot juryleden. Met veel plezier van zowel de aanwezige honden als de gasten werden de spelletjes fanatiek gespeeld. Om 13.30 uur was het tijd om te lunchen en de enige echte Als D'Oro familiedag soep en broodmaaltijd ging er in als koek. Na de lunch konden de spellen worden afgerond. De punten konden worden geteld, de Ala D'Oro diploma's opgemaakt en met hulp van alweer een aantal vrijwilligers was dit binnen een halfuur gepiept. Onderwijl maakte onze goede vriend en fotograaf, Frits Kosters van alle honden een aantal prachtige foto's. Na de prijsuitreiking had een ieder nog de gelegenheid wat dummy's te apporteren die met behulp van een dummy launcher werden afgeschoten. Rond de klok van 16.30 uur werd de zo fel begeerde trofee uitgereikt aan de winnaar van de competitie. Er was een beker voor de winnaar met een Ala D'oro hond en een voor de beste hond van een ander ras (een aantal mensen hebben namelijk naast hun Ala D'Oro Bracco nog andere hond die natuurlijk ook van harte welkom waren op deze dag). Natuurlijk was er voldoende gelegenheid om met elkaar over de Bracco te praten.
Once a year we organize a family day, we invite owners of our self bred Bracchi to come to this day. This year we have planned this day on 28 thApril 2002. Have fun reading the report of this day from Ms. Smit the owner of Grosso Calabrone di Ala D'Oro who live in England and visit our family day for the second year. Have fun looking at the pictures.
Report from Martin and Lee Smit:
We were recently invited to spend a few days with Jaap and Tina in order to attend their family day. The venue for which was a magnificent dog club near Efteling (Waalwijk) in the Netherlands. The day consisted of coffee on arrival followed by fun and games with the dogs. Everyone was given a quiz sheet and the opportunity to complete five fun tests with their bracco. Marks were given out for each test and at the end of the day certificates were given out to the competitors. After a wonderful lunch, a photo session was arranged with the sire, dam and off-spring of each litter having its own line up. This was followed by a retrieving demonstration, with many of the bracchi who are worked taking part. The emphasis of the day was on having fun with your bracco. It was good to see so many Di Ala D'Oro bracchi and owners together with their dogs, who all behaved exceptionally well. We feel sure that all those who attended had an interesting day, asking each other questions, swapping dog stories and seeing how their own dogs sibblings were progressing. It is a tremendous credit to Jaap and Tina that so many of their puppy owners return year after year to attend this special day. It comes as no surprise to us, as we have seen the amount of hard work and passion that Jaap and Tina put into everything 'bracco' whether that be from rearing puppies or to arranging such a day. The day was a huge success. We were very happy to have been invited and look forward to next years day!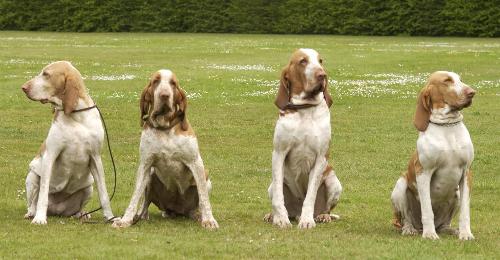 Bice met Prima Donna, Valentino and Madonna del Rosario


Terra met Moschino,, Sotto-Voce, Nebbia-Gucci and Gabbana


Bice and Moschino met , Bamboccio, Pisanella, Casagrande, Barcarolla , Grosso C.


Valentino en Nebbia-Gucci met Don Corleone, Mascalzone, Orsacchiotto Farfalla, Bramare, Tomba la Bomba



Gabbana met Salvatore, Amarone, Zerlino, Don Ramiro, Romagna, Primo Moscato and Perla