14-01-2020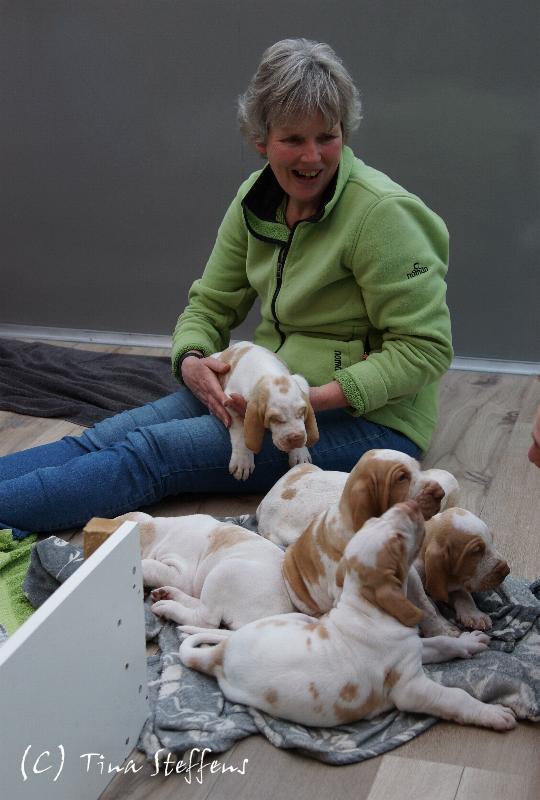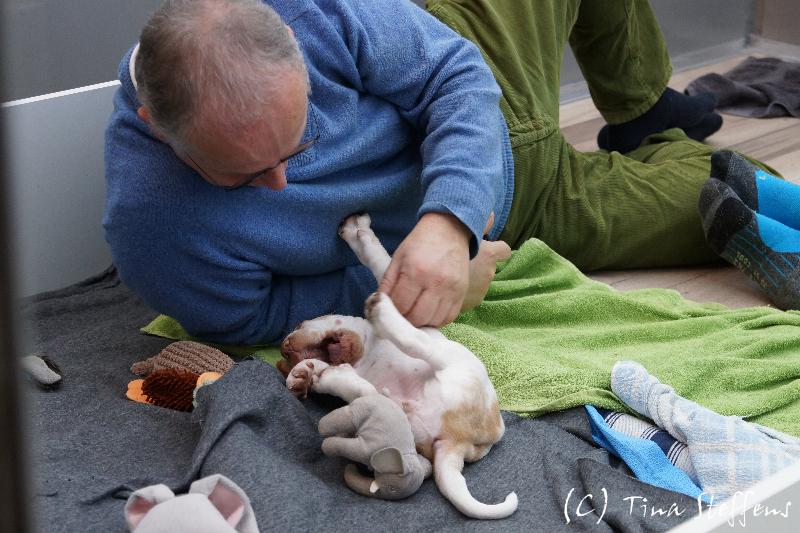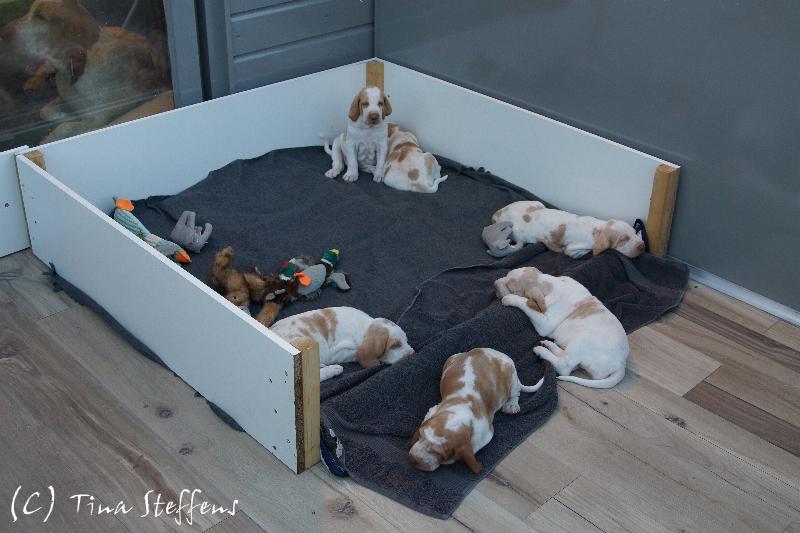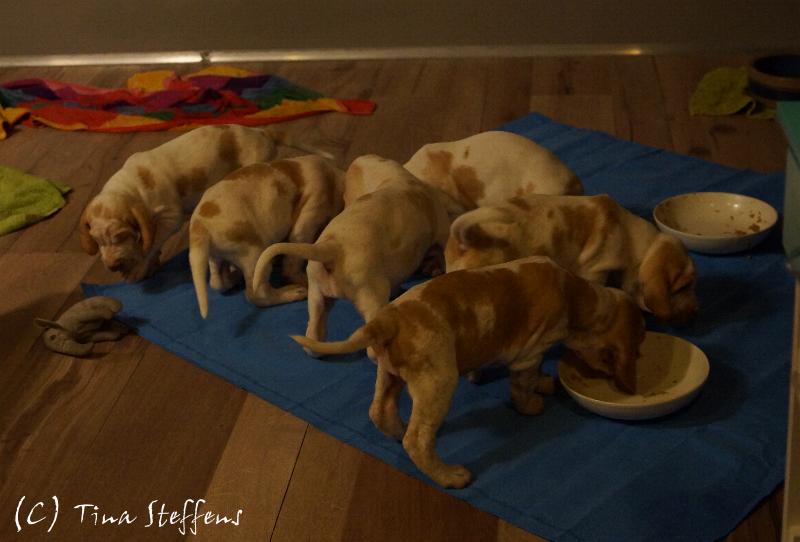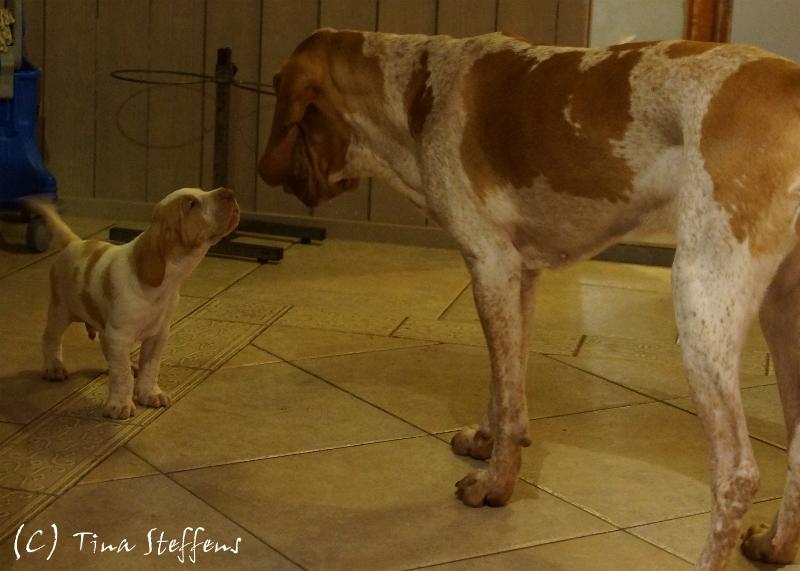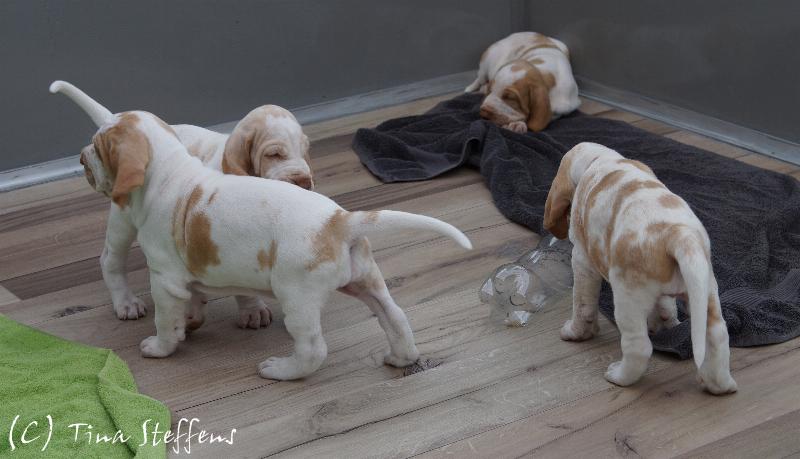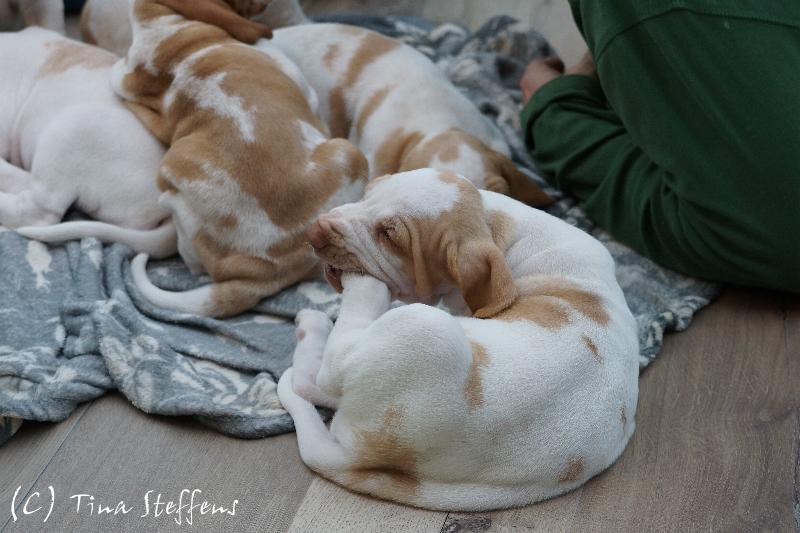 07-01-2020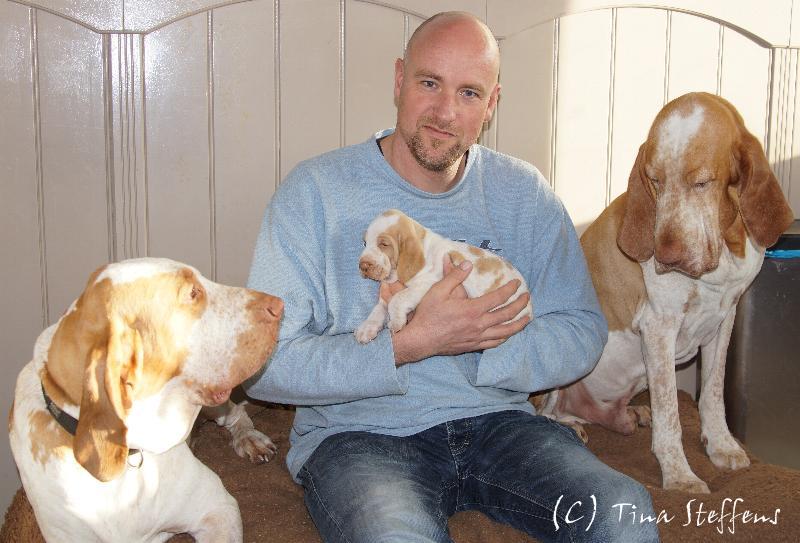 3 generaties .: Antonio da Calabrone di Ala D'Oro bij Michel op schoot, links Calabrone Aladoro (vader van Antonio) rechts Fabrizio Bettino di Ala D'Oro (Opa van Antonio en vader van Calabrone Aladoro)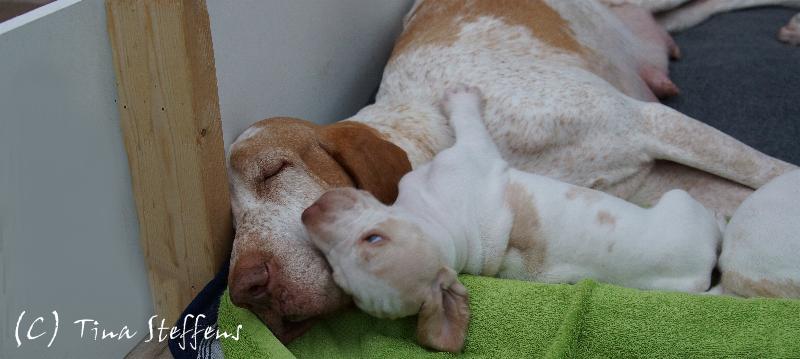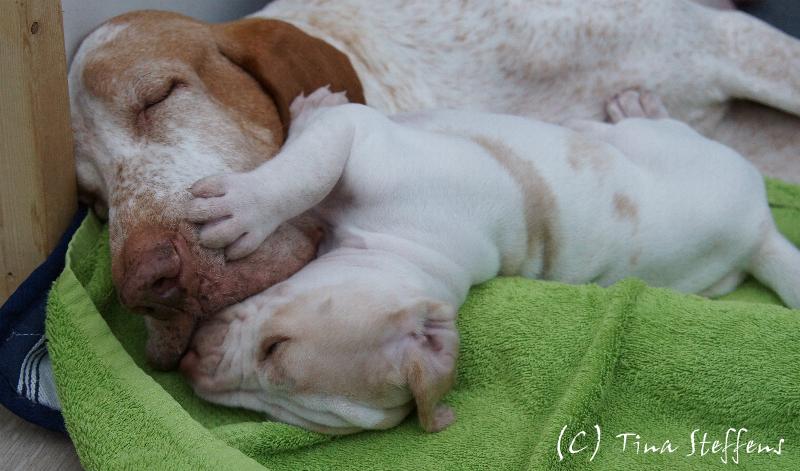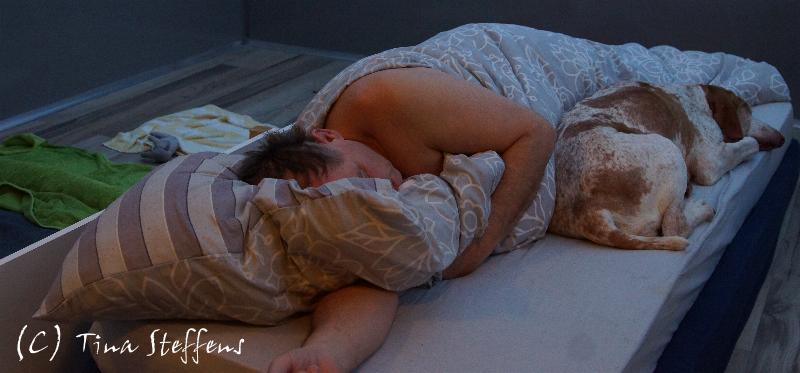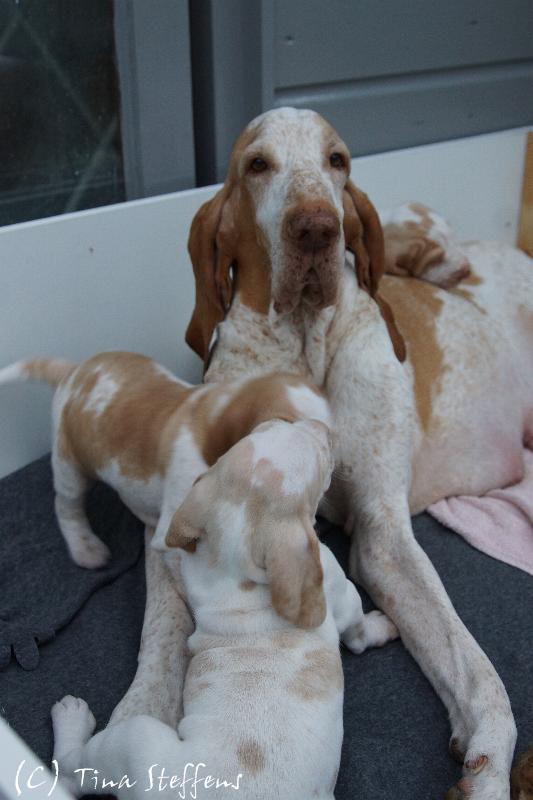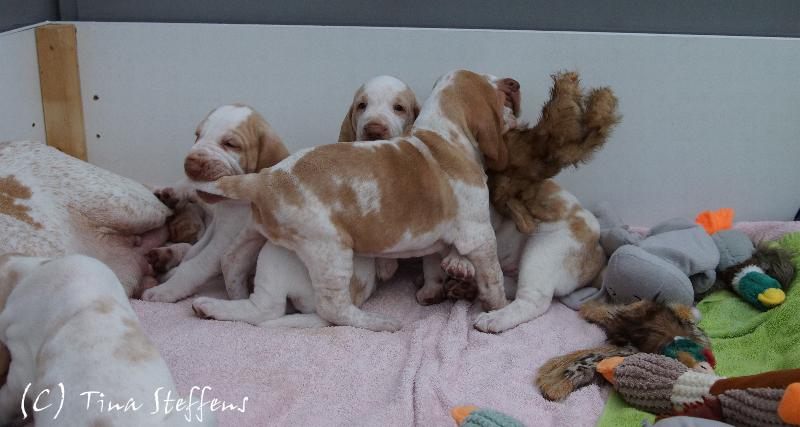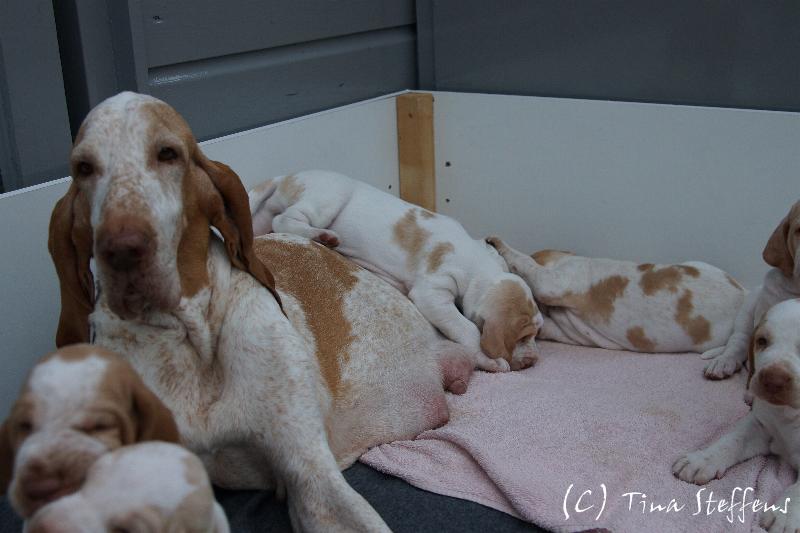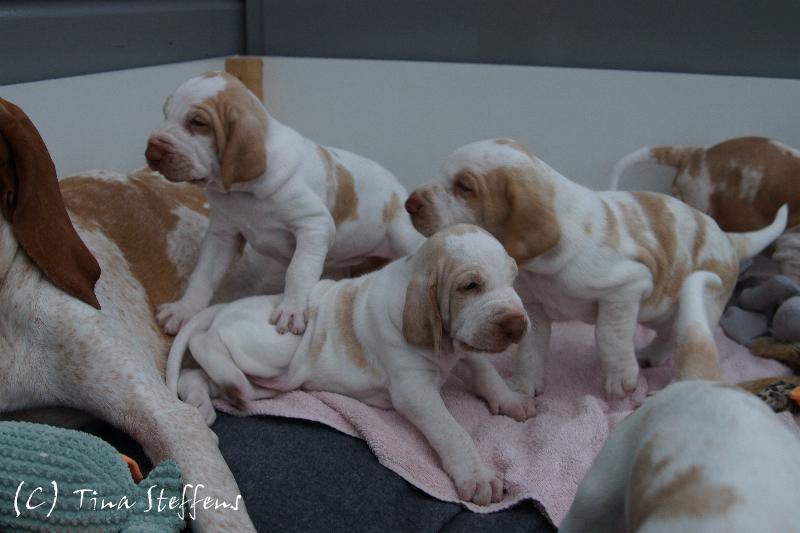 15-01-2020
Deze week hebben we iedere dag visite, gehad, gezellig! De puppen zijn nu steeds vaker en langer wakker. En als je wakker bent wil je natuurlijk lekker rondrennen. Vandaag al weer 5 weken oud. Morgen is week PUP6 ACTIVE Klik hier>>>.

Onze dagen beginnen rond de klok van 6 uur, de puppen hebben dan honger. Vier weken oud, bij de wilde hond is dit de tijd dat de puppen samen met hun moeder de groep gaan verkennen. Tijd dus om onze puppen officieel te introduceren aan de rest van de volwassen honden. Het lijkt dat Duffy zich nog niet berust in dit lot. Bes heeft al kennis gemaakt en vind het allemaal reuze interessant. Bas is zoals altijd iets te enthousiast, haar houden we nog een weekje op afstand. Het feit dat ze loops is en op het moment zelfs dekrijp maakt het voor haar niet gemakkelijk om rustig te zijn. De andere honden, Edda en Krekel zijn niet echt geļnteresseerd. De pupjes groeien goed, zijn lekker bezig als ze wakker zijn. Ze rennen door hun nieuwe ruimte en zeker als ze net wakker zijn laten ze hier en daar hun plasje achter zonder op of om te kijken. Wij gaan er nu nog met een handdoek/sopdoekje achteraan. Op dit moment is het nog te veel gedoe om ze op de juiste plas plek te zetten en ze alvast een klein beetje zindelijk maken. Volgende week gaan we hier echt werk van maken. De puppen kunnen al rennen, voor- en achteruit, ze kunnen grommen en af en zo af toe laten zij een blafje horen. De vier maaltijden die de puppen krijgen gaan erin als koek. Ook drinken ze nog een klein beetje bij Duffy die 's nachts graag bij haar kinderen slaapt, een lieve zorgzame moeder. De bezoekers kijken vast weer op hoe snel de puppen nu groeien en zich ontwikkelen. Hopelijk wordt het weer een beetje beter, dan kunnen we samen met de puppen over een week of twee een kijkje nemen in onze tuin.



15-01-2020
We had visitors every day this week and that is lovely. The puppies are more and longer awake and when they are awake it is so fun for them to run around. Today 5 weeks old. Tomorrow week PUP6 ACTIVE Click here>>>.

Our day's start at 6 'o clock every day, because the puppies are hungry at that time and want their food. Four weeks old, it is time to introduce the puppies official to the world and our mature dogs. And it seemed that Duffy does not yet agreed that this is the right moment to do it. But it has to be done. Bes has been introduced and think the puppies fascinating, she is very sweet with them. Bas is, like with any litter, too enthusiastic so we have to delay her introduction for another week. The fact that she is in season and she feels she ready to be mated is not makes an introduction easy. The other dogs, Edda and Krekel are not interested at all. The puppies grow fast, they are very busy when they are awake. The run through their room and when they are just awake they pie all over the place without any shame. At this moment all we do, is run after them to clean up the mess. Next week we will try harder to let them know that they have to pie at the please we like them to pie. The puppies can do all kind of new stuff, they can run back and forwards, they can growl and ones in a while they even bark. It is funny to see that when a puppy barks, they seem to be in shock of their own voice. They eat very well, four time a day and can drink some milk with Duffy but not so much anymore. In the night Duffy like to sleep close with her children, she is a good Mom. I think the visitors will be surprised how fast they grow now. Hopefully our weather will be better in two weeks so we can show the puppies our garden.